Conveyor belts and equipment for bakery plants
Some in the bakery industry think of us solely as a conveyor belt manufacturer. But we're much more than that.
We provide a complete range of conveyance solutions for all types of bakery plants, including bread/bun, pastries and confections, cookies, crackers, and tortillas and flat breads. Our belt and equipment technologies can handle a wide variety of baked and pre-baked goods and packaging, efficiently and without damage.
Our bakery industry solutions help you realize key improvements, including:
Improving food safety and operational effectiveness in dough-handling areas
Maintaining orientation and eliminating jams on pan lines
Optimizing spirals for freezing, cooling, and proofing
Ensuring maximum return on investment for major back-end projects

Bakery plant processing areas
Where can Intralox make the difference for you?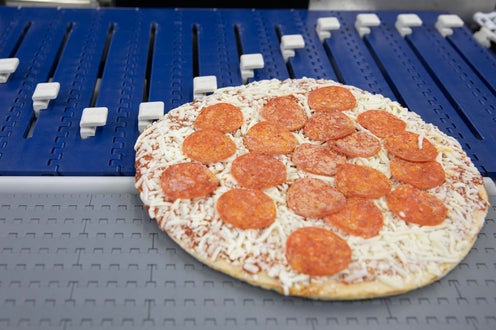 Equipment Spotlight

AIM Equipment for Pizza

Revolutionize pizza handling with washdown-capable automation solutions that deliver maximized throughput and gentle product handling.
Frequently Asked Questions
Intralox provides products and support to producers of all types of fresh and frozen bakery goods, including:
Fresh bread products like soft breads and buns, rolls, tortillas, and flat breads
Fresh-baked sweet goods like cakes, muffins, pastries, and donuts
Frozen bakery products, including frozen dough, pizzas, and pastries (e.g., croissants, pies, and tarts)
Cookies, crackers, and biscuits
Intralox offers a wide range of spiral conveyor services to help you maximize belt life and prevent downtime in these crucial applications. Services available to bakery plants include Health Checks, spiral conveyor audits, remote monitoring with IntraloxIntelligence, and consultation with Intralox's Optimization Services Group (OSG).
When downtime can't be avoided, we can help ensure that your spiral is back to being fully operational as quickly as possible. We offer training—remote, on-site, or hybrid—and resources like Performance Support Videos to help your team better understand how to maintain spiral belts and troubleshoot common challenges.
We offer:
Standard seven-day lead time
Expedited services: four-hour, same-day, next-day, and three-day options to most locations
99%+ service levels
Industry-best expedited belt ship date guarantee of $20,000/€20,000
Even through the recent challenges of a global pandemic and catastrophic supply chain issues faced by many manufacturers, we've maintained order accuracy and on-time shipment levels at well above 99%.