Conveyor belts and systems for the automotive industry
Intralox's long-lasting, easy-to-install belt and equipment solutions for automotive plants deliver measurable increases in productivity, quality, and worker morale.
Our innovative products, combined with our global support structure, reduce the risk of expensive downtime in automotive assembly while improving worker ergonomics. We work with major automotive and equipment manufacturers across the world, developing patented technologies and customized solutions for the automotive industry's most pressing conveyance challenges.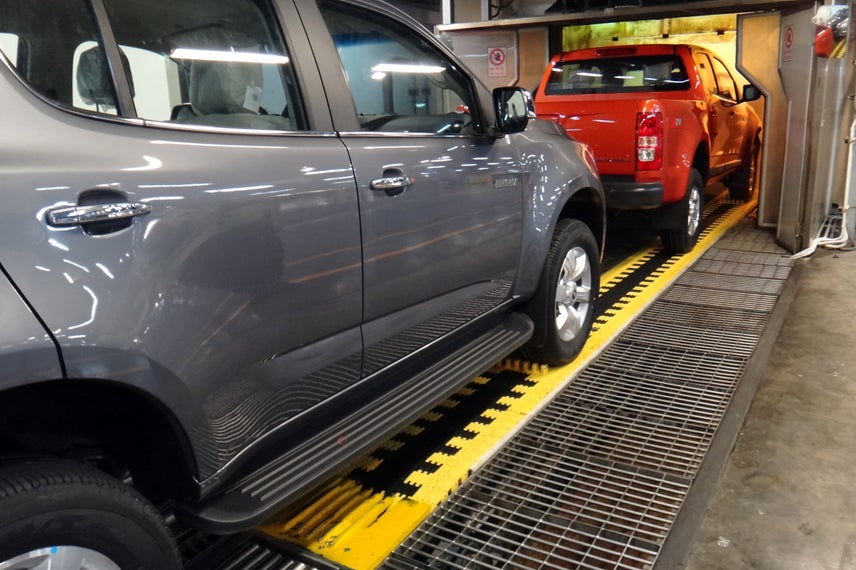 Automotive manufacturing applications
What can Intralox's belts and equipment help you achieve?

Inventing the Future of EV Battery Conveyance
Intralox's future-ready, innovative solutions scale battery production and increase speed to market in your electric vehicle (EV) plants.
Frequently Asked Questions
Yes. Our belt solutions for the automotive industry have been engineered based on many factors, including weight capacity and intended plant area or application. For example: Series 4500 belts are optimal for many medium-duty applications, while our Series 10000 solutions were specifically developed for heavy-duty automotive applications.
For more information, contact Intralox Customer Service or your account manager.
Belt needs are often unique to a specific application or installation. Our experienced Automotive team can work with you through your design process to enable flexibility, uncover opportunities to optimize or customize your belt choice, and help you meet your production goals.
We offer more than two dozen material options and a wide range of color choices. You can also add specialized components (e.g., insert nuts) to optimize your belt and conveyor for the unique conditions of your specific application.
For more information, contact Intralox Customer Service or your account manager.
We offer:
Standard seven-day lead time
Expedited services: four-hour, same-day, next-day, and three-day options to most locations
99%+ service levels
Industry-best expedited belt ship date guarantee of $20,000/€20,000
Even through the recent challenges of a global pandemic and catastrophic supply chain issues faced by many manufacturers, we've maintained order accuracy and on-time shipment levels at well above 99%.
We are committed to providing world-class service during the entire project life cycle. Some examples of our service offerings for automotive customers include: 
Before Installation
Product testing: Our fully equipped, customizable test facilities help us recreate the conditions of your plant to determine which conveyance solutions meet your specific needs
Layout optimization: We work with your team to review and, if necessary, reconfigure existing layouts to optimize production area performance
After Installation
Reliability audits: Ensure optimal belt life with equipment status updates and maintenance recommendations
Spare parts audit: Stock level recommendations and overviews of spare parts ensure quality and guarantee maximum uptime
Ongoing Support
Application engineering support and services: With on-site training and support, our industry-specialized engineers can help you troubleshoot common belt and application problems and provide recommendations to maximize performance and belt life
A key benefit of Intralox's modular plastic conveyor belting technology is that it can reduce the cost of in-pit solutions by half compared to traditional metal-slat conveyors. It can also enable over-the-floor conveyors with widths between 15 in (381 mm) and 20 in (508 mm) for heavy-duty applications, or with heights as low as 6 in (152 mm) for light-duty applications.
For more information, contact Intralox Customer Service or your account manager.
Yes. In addition to our solutions for traditional automotive and EV battery manufacturing, we can also deliver value to brownfield or greenfield electric vehicle plants. This includes full-width belting (to transport vehicles when all tires must be on the conveyor) and other emerging and specialized needs.
For more information, contact Intralox Customer Service or your account manager.