Packer to Palletizer Technology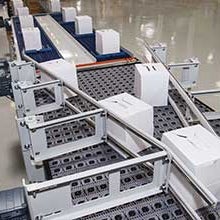 Innovative solutions that help you stay ahead
Intralox's Packer to Palletizer technologies ensure the highest level of performance across a range of back end applications. The byproduct of a deep commitment to innovation, these belt and equipment offerings allow you to increase productivity, reduce costs, and adjust to increasingly complex production processes.
Activated Roller Belt™ (ARB™) technology is a patented conveyance solution that brings the benefits of modular plastic belting to complex processes, providing more functionality and reliability while reducing total system costs. This automated conveyance platform increases throughput, gently handles challenging products, and reduces footprint.
Packer to Palletizer ARB Applications 
Sorter
Switch
Turner divider
90-degree transfer
Merge
Perpetual merge
Virtual pocket merge
AIM technology is designed specifically to perform in washdown environments and optimized for cleaning and sanitation processes. Stainless steel sheet metal frame construction and industry-specific engineering make it a robust, cleanable, safe, and low maintenance piece of equipment.
Applications
Merge
Perpetual Merge
Sorter
Multilane Sorter
Switch
Additional Equipment Offerings 
Intralox OMNI-DIRECTIONAL™ Turner
We offer modular plastic conveyor belts for such back end applications as brake stops, meter spacers, inclines, declines, and general transport. Our Packer to Palletizer belt solutions help you eliminate common problems with transfers and product handling.
Benefits of our Accumulation and Straight Running Solutions 
Simpler, smoother transfers for products as small as 3.9 in (100 mm)
No need for transfer plates
Reduce jams and product impact/damage
Same nosebar used for multiple belt types and series
Intralox's radius solutions enhance belt performance and belt life, enable small product handling in flexible layouts, and improve total cost of ownership. They additionally provide for reduced floor space usage, smooth conveyance and transfer of smaller packages, and higher line speeds.
Series 2100 ZERO TANGENT™ Radius Flat Top 
This uni-directional belt helps reduce your total cost of ownership by approximately 90% compared to fabric belt curves. It features a compact design with smaller inner radii, a patent-pending symmetric drive design, and a lug-tooth-style positive drive system.
Simplified design and installation
Improved reliability and durability
Improved layout flexibility and reduced floor space usage
Consistent product orientation/spacing through curves (reduces challenges for downstream equipment)
Series 2300 Flush Grid Nose-Roller Tight Turning 
This uni-directional belt's industry-leading design helps you meet complex radius challenges such as smaller packages, more compact footprints, heavier loads, and stricter safety requirements.
Simpler, smoother transfers for products as small as 3.9 in (100 mm)
No need for transfer plates
Reduce jams and product impact/damage
Same nosebar used for multiple belt types and series