Intralox Series 560: The Strongest Tight Transfer Belt in the Food Industry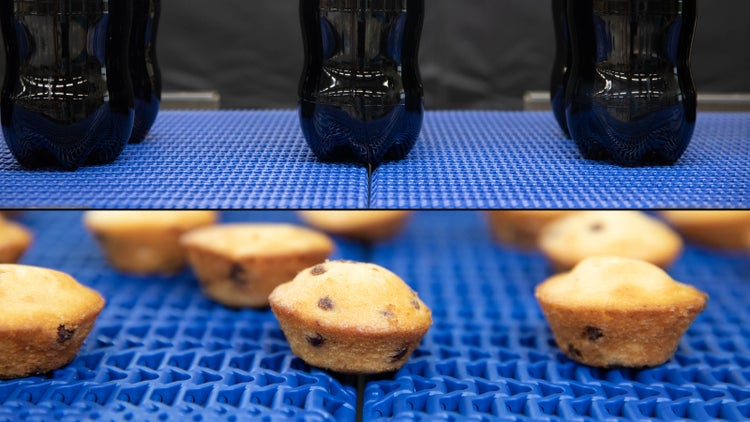 Eliminate downtime and increase belt life with Intralox's new high-strength tight transfer belt. The Intralox Series 560 belt provides smooth, gentle product handling to improve yield and minimize damaged or wasted product across tight-transfer conveyors. Its thoughtful design improves upon our original Series 550 belt to help simplify cleaning, eliminate mistracking, and maintain product orientation.
The S560 belt's distinctively small nosebar makes it ideal for transfers of small or delicate products, including machinery infeed and outfeed, product transfer, tight-transfer conveyors, or product handling within the machine. With its varying belt styles, materials, and belt strength, as well as its superior sprocket engagement, it's a "new and improved" version of the S550 belt. The S560 belt has a belt strength of 300 lb/ft (41.48 kg/m), making it one of the strongest, most durable tight-transfer modular plastic conveyor belts available.
Since installing the Intralox Series 560 belt, we have not had any performance issues. I've been especially pleased that the belt has not stretched any further past the mark on the take up.

Chris Ryan
Bread/Bun Maintenance Supervisor, Kwik Trip Inc.
Design Features
0.315-in (8-mm) pitch and 0.236-in (6-mm) diameter nosebar wrap
Two belt styles to choose from: Flat Top and Flush Grid 
Available in two materials: 

Acetal, with a temperature range of -50°F to 200°F (-46°C to 93°C)
LMAR, a new high-heat-resistant nylon material with a temperature range of -50°F to 290°F (-45°C to 143°C) and flame-resistant rate: V2

Positive tracking with superior sprocket engagement
Exposed rods and open channels allow easy water access during cleaning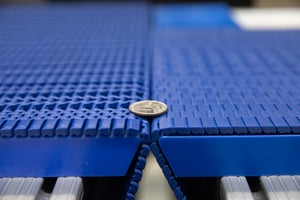 To learn more about this product and its benefits, download our S560 Tight Transfer Belt Product Highlight (PDF).
---