Tire conveyance solutions, from mixing to final finish and beyond
Intralox creates significant economic value for tire manufacturers worldwide by providing total conveyance solutions for the entire plant.
We provide innovative, proven solutions and layout optimization for all the areas of your tire production facility, as well as comprehensive services, support, and guarantees that ensure total success. Whatever your need–whether it's a single retrofit, an area upgrade, or a plant-wide project–Intralox's belt, equipment, and service offerings deliver optimal results for your plant.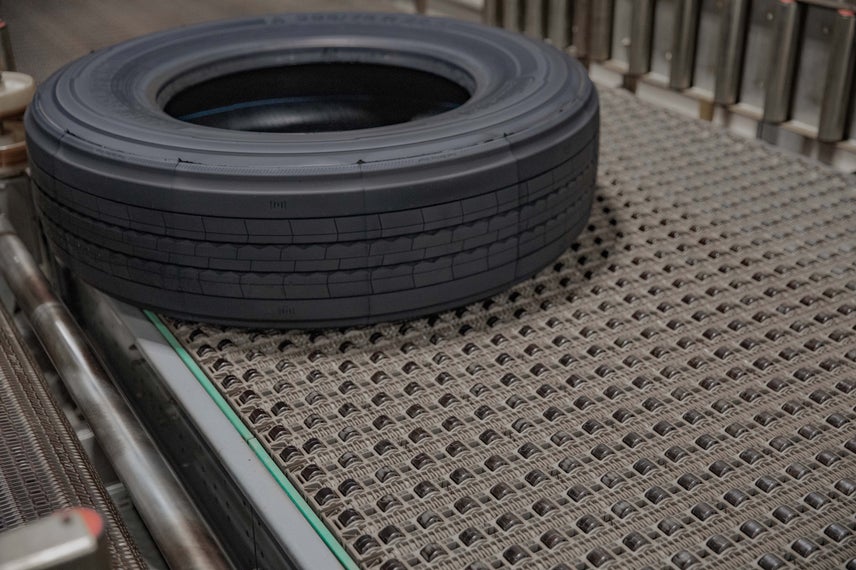 Tire plant applications
Where can Intralox make the difference for you?
Frequently Asked Questions
Test facility: Determine which conveyance products best suit your specific plant in fully equipped, customizable Intralox test facilities.
CAD drawings: Reduce engineering time with equipment, belts, and parts drawings.
Layout optimization: Reviewing and reconfiguring existing layouts optimizes production area performance.
The Intralox Conveyor Optimization Program: Identify upgrade opportunities, increase belt life, and reduce maintenance through technical and financial assessments.
3D simulations: Evaluate critical points and identify process constraints through physics-based simulations.
CalcLab: Collaborate with Intralox engineers online with our cloud-based engineering program.
Reliability audits: Ensure optimal belt life with equipment status updates and maintenance recommendations.
Spare parts audit: Stock level recommendations and spare parts overviews ensure quality and guarantee maximum uptime.
Payback audit: Post-mortem financial analyses determine if anticipated results are met.
Application engineering support and services: On-site training and support allow engineers to troubleshoot with you.
24/7 technical support (in most regions)
Design guidelines: Optimize belt performance pre- and post-sale with provided guidelines and recommendations.
Startup and installation service: Supervised on-site equipment installation ensures optimal conveyor performance.
On-site maintenance training: Seminars ensure proper routine maintenance on Intralox belts and equipment.
Expedited services and written, money-back guarantees: Four-hour, same-day, next-day, and three-day shipping to most locations.
Intralox has been developing belts and equipment specifically for the tire industry for many years. We continuously develop, improve, and directly deliver solutions that improve reliability and efficiency and reduce costs. Our global, industry-dedicated team works hard to fully understand your individual requirements and applications before providing any recommendations.
Contact Intralox Customer Service or your account manager to discuss how we can help your next project succeed.
Intralox tire industry experts can provide application-specific conveyor design guidelines and review conveyor drawings to ensure your conveyor is designed to optimize belt life and reliability. Our team will also perform a mechanical inspection of the conveyor prior to installation to help ensure smooth startup. This service is available for both end users and OEMs.
For sorting applications, we have several solutions available. We make personalized recommendations depending on the product being sorted and the conditions in your plant.
Following are some examples of typically recommended belts and equipment, based on generic descriptions of products being transported. For specific recommendations (supported by money-back guarantees), please contact Intralox Customer Service.
Tire components (tread): The DARB Sorter S4500 provides gentle, accurate, and "touchless" diverting at reduced line speeds (compared to other technologies)
Green tires: The DARB Sorter S4500 offers gentle, accurate, and "touchless" diverting with no relative motion between belt and tire and no product damage. Our S1700 and S4400 TRT roller belts enable divert-arm sorting and smooth transfers.
Green tires in totes: Passive Off transfer solutions include S400 ARB and S4500 roller top belts with moving divert rail(s). Active transfer solutions include the DARB S4500 conveyor.
Finished tires: High-speed sorting solutions with S4400 TRT belting and paddle diverts