Our team is here for you.
Innovative New Products
ThermoDrive Incline to Packaging
Elevate Your Product, Protect Your Brand
Food safety, sanitation, reliability: ThermoDrive incline solutions help you protect the integrity of your product and your brand.
Digital Solutions
CalcLab
Calculate with Intralox engineers, simply and directly
CalcLab™, Intralox's new web-based engineering platform, provides you with a single location for the latest calculators available.
Intralox News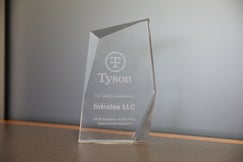 Tyson Foods, Inc., has awarded Intralox the 2019 Operations Indirect "Supplier of the Year." This is the third time Intralox has been named a Supplier of the Year in the 15-year history of the award.