Moving You Straight Ahead
Optimize A-to-B conveyance in every part of your plant

Straight-running Modular Belts

No matter the challenges of your application, we have a straight-running solution to help you overcome them.
Straight-running conveyor belts are foundational to the success of any manufacturer, processor, or distributor. If they perform as they're supposed to, you may not even think about them. But if just one is not working correctly, it can cause problems across the whole line—possibly your entire plant.
Intralox straight-running modular plastic conveyor belts help you:
Avoid increased or unexpected downtime due to belt breakdowns
Simplify cleaning or maintenance procedures
Eliminate product loss or contamination risks
With hundreds of options for series, style, material, accessories, and more, we have straight belts for almost any application. Our product experts ensure you get the right solution, backed by industry-leading guarantees.
---
A citrus processor saved $49,000+ annually by switching to a unique Intralox straight-belt solution.
Benefits
Intralox straight-running conveyor belts offer many key benefits, including:
Longer belt life with less belt wear
Simplified cleaning and maintenance
Reduced risk of product loss or contamination
Enhanced worker safety
Zero need for lubrication or tensioning
---
Belt Options
What is your straight-running belt need?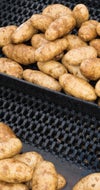 Abrasion Resistance
Abrasive particles can damage many parts of a conveyor belt, including top and bottom surfaces, rods, sprockets, and hinges. It's a major challenge not only in food processing (from salt, seasonings, flour, etc.) but also industrial products like corrugated cardboard.
We offer several options to combat abrasion, including our specially designed Series 1700 and 1750 belts. Our belt experts can help you choose not only the right belt, but also the best material and component options to address the specific conditions of your plant.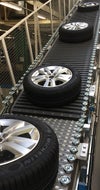 Incline/Decline
Incline and decline conveyors are especially challenging; without the right belt, your products can fall off, roll back, or jam, wasting valuable investments of money and time. We offer several surface options for incline belts—including Friction Top and Nub Top™—and an array of components and accessories like flights, buckets, scoops, and cones.

Rollers and Accumulation
The ability to accumulate product is critical to improving line layout flexibility, enhancing performance both upstream and downstream, and minimizing overall downtime. Intralox Roller Top™ and roller mat solutions provide for low back pressure, more pull strength, and optimal roller density—more rollers for smaller products, fewer rollers for larger ones.
Read "Accumulation: Maximizing Line Efficiency and Production Volume"

Tight Transfers
Eliminate downtime and increase belt life with the strongest tight transfer belt in the food industry. The Intralox Series 560 belt provides smooth, gentle product handling to improve yield and minimize damaged or wasted product. Its distinctively small nosebar makes it ideal for transfers of small or delicate products, including machinery infeed and outfeed, product transfer, or product handling within the machine.
Learn more about the Intralox Series 560 Tight Transfer belt

X-ray and Metal Detectable
Whether in food processing or industrial applications like tire rubber, the integrity of your raw materials cannot be compromised. Intralox X-ray and metal-detectable conveyor belting can enhance your food safety and safeguard against foreign material contamination. Our product experts can help you determine which belt configurations comply with the regulations in your industry and region.
Download our Intralox FoodSafe™ Detectable Belting Product Highlight (PDF)