Simpler. Stronger. Safer.
Belts and materials designed to solve a wide range of food safety challenges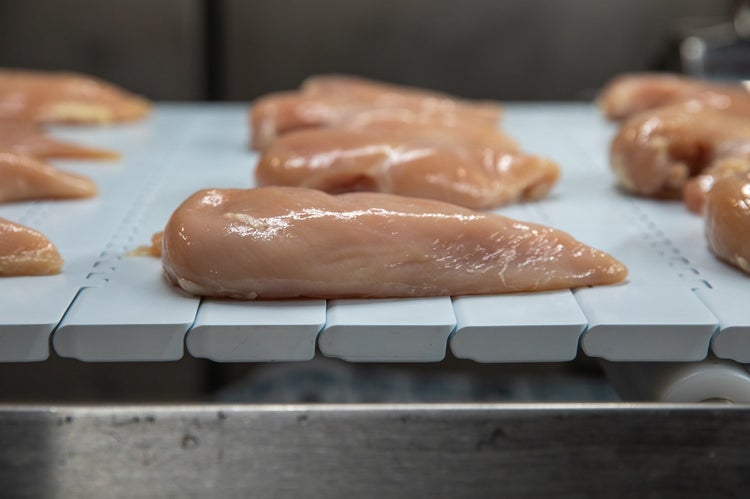 Food-Safe Modular Plastic Belting

Increase uptime and throughput without fear of belt-related foreign material risks.
Your ability to guarantee the quality and safety of your products is more important than ever. Intralox® FoodSafe™ conveyor belts allow food processors to take a proactive approach to food safety without sacrificing operational efficiency.
With an array of belt materials and designs—engineered to tackle foreign material risks head-on—Intralox FoodSafe belting helps ensure uncompromised food safety, product quality, and brand integrity. When combined with the comprehensive expertise and services of our Intralox FoodSafe portfolio, these food-grade conveyor belts deliver optimal performance in direct food contact applications.
Benefits
Prevent breakage caused by belt mishandling
Maximize belt life in high-impact or abrasive applications
Increase safeguards with detectable materials
Maintain belt strength and durability in high-chemical-exposure applications
---
Belt Options
Where can our food-safe modular plastic belting deliver value for you?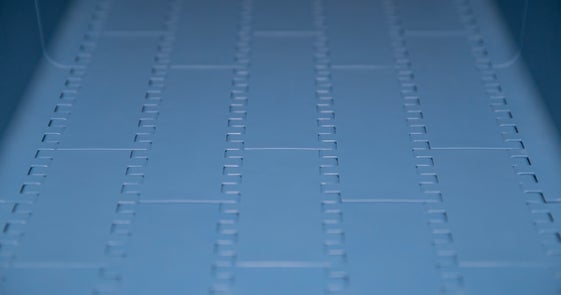 PK Material
Reduce nonmechanical belt breakage and minimize foreign material risk with Intralox PK. Developed for direct food contact applications, PK is a robust, high-performance material that is more impact, chemical, and abrasion resistant than acetal.
Better able to withstand the rigors of food processing, Intralox PK will reduce nonmechanical belt-related foreign material risk in your facility while improving release and yield in key applications.
Download our Intralox PK Belt Material Product Highlight (PDF)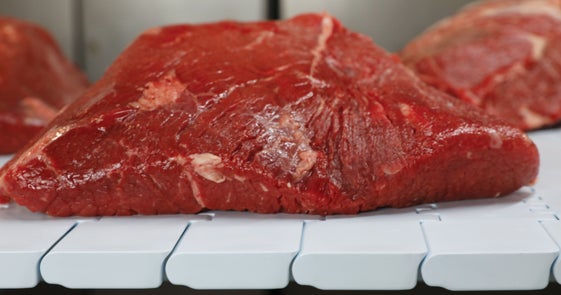 Heavy-Duty Edge (HDE)
The Heavy-Duty Edge belt features a robust design that reduces breakage risk, especially during daily sanitation and maintenance. Its closed flush belt edge minimizes catchpoints, and its thicker links reduce wear while maximizing belt life. Available in several series and with molded indent flights, HDE's unique design provides a distinctive solution to common industry challenges.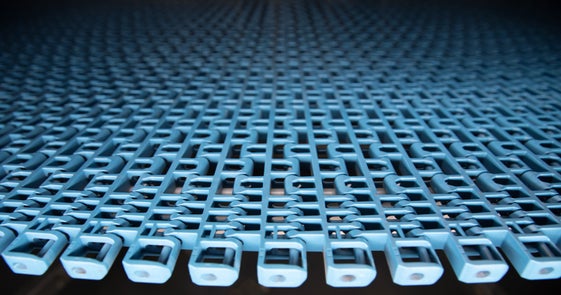 X-ray and Metal Detectable
Intralox X-ray and metal-detectable conveyor belting can enhance your food safety and help you safeguard against foreign material contamination. Several belt and material options are available, including X-ray–Detectable PK material and Detectable MX material for DirectDrive System (DDS) spirals. Our product experts can help you determine which belt configurations comply with the regulations in your industry and region.
Download our Intralox FoodSafe Detectable Belting Product Highlight (PDF)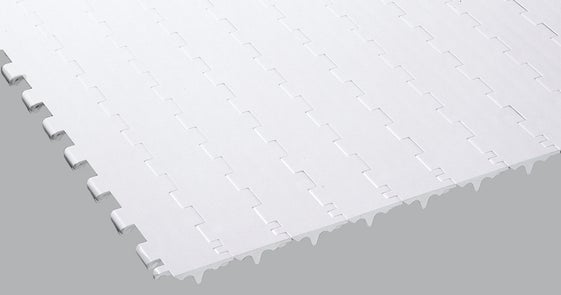 SeamFree Belting
Manufactured in non-absorbent, nonporous materials that decrease contamination risks, Intralox SeamFree™ belts can be assembled without bricklayed seams at widths of up to 36 in (914 mm). SeamFree belts feature cam-link hinges that prevent debris from clogging the belt. Their patented flume design simplifies cleaning processes by channeling water and debris to the edge of the belt.
See how SeamFree belting helped pork producer Baucells reduce water consumption by 25%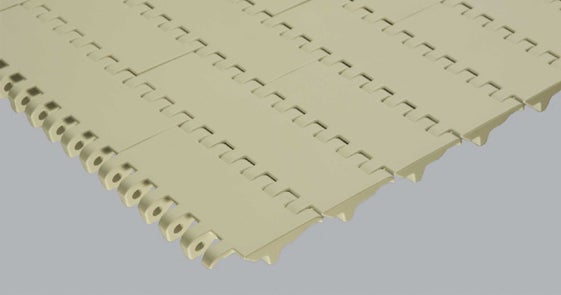 Tough Belt
An ultra-high-performance belt for extreme impact applications—such as discard and rehang lines—the Intralox Tough Belt offers superior impact, abrasion, and cutting resistance. Able to absorb at least five times the impact energy of alternatives with no breakage, Tough Belt lasts 2–3 times longer than alternatives. It improves food safety by reducing the contamination risks from broken or damaged modules or flights.