Intralox FoodSafe Modular Plastic Belting
Your ability to guarantee the quality and safety of your products is more important than ever. With an array of material, design, and component options, Intralox® FoodSafe™ belting helps ensure uncompromised food safety, product quality, and brand integrity.
Materials
PK and X-ray–Detectable PK: PK is a lightweight alternative to acetal that's more impact, chemical, and abrasion resistant. Intralox® PK material helps reduce nonmechanical belt-related foreign material in your facilities. X-ray–detectable PK takes foreign material risk reduction one step further with detectability. Available in a variety of series and styles, both materials improve release and yield in certain applications. FDA and EU compliant for direct food contact, PK and X-ray–detectable PK function over a temperature range from -40°F to 200°F (-40°C to 93.33°C).

ChemBlox: Designed especially for dip tanks, Intralox ChemBlox™ belting provides exceptional resistance to peracetic acid (PAA) and other acids and bases commonly used in food processing. This reduces risks associated with breakage and belt-related foreign material contamination (FMC). ChemBlox belting maintains its strength and toughness at least three times as long as acetal, ensuring increased belt life even after continuous chemical exposure. Comes backed with a three-year material degradation warranty for usage in dip tanks.

Tough Belt: An ultra-high-performance belt for extreme impact applications—such as discard and rehang lines—the Intralox Tough Belt offers superior impact, abrasion, and cutting resistance. Able to absorb at least five times the impact energy of alternatives with no breakage, Tough Belt lasts 2–3 times longer than alternatives. It improves food safety by reducing the contamination risks from broken or damaged modules or flights.

Detectable MX: Developed specifically for detectability in metal detectors and X-ray machines, Intralox Detectable MX material helps food processors avoid foreign material contamination risks in spiral applications. Detectable MX is a material option for Intralox DirectDrive™ System (DDS™) spirals; additional X-ray–detectable acetal or polypropylene material options are available for straight-running and incline belts.

Design
Heavy-Duty Edge: The Heavy-Duty Edge features a robust design that reduces breakage risk, especially during daily sanitation and maintenance. Its closed flush belt edge minimizes catchpoints, and its thicker links reduce wear while maximizing belt life. Available with molded indent flights.

SeamFree belting: Manufactured in non-absorbent, nonporous materials that decrease contamination risks, Intralox SeamFree™ belts can be assembled without bricklayed seams at widths of up to 36 in (914 mm). SeamFree belts feature cam-link hinges that prevent debris from clogging the belt. Their patented flume design simplifies cleaning processes by channeling water and debris to the edge of the belt.

Components
Conveyor Shaft Optimization: Combining both new and existing components—including shafts, sprockets, heavy-duty split retainer rings, and sprocket spacers—with installation and operational guidelines, the Conveyor Shaft Optimization program helps you reduce conveyor-related foreign material risk while improving safety and performance.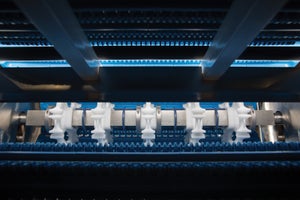 EZ Clean: Intralox EZ Clean™ components are designed to help you meet the highest hygiene and cleaning standards. The EZ Clean-In-Place System maximizes the cleanability with a custom-engineered spray pattern for complete sanitation efficiency. Angled EZ Clean sprockets allow access to 100% of the critical belt underside for total belt sanitation.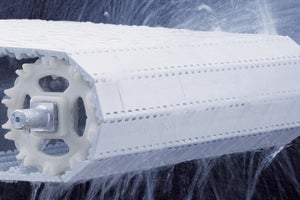 Intralox FoodSafe Solutions
Intralox FoodSafe is a portfolio of services and technology backed by experts to help you produce safe food and protect your brand.

The most advanced belt system for hygienic food processing

Intralox's new FoodSafe™ products have been specifically developed to prevent belt-related foreign material risk.
Case Studies
Baucells Reduces Water Consumption by 25% with SeamFree Belts

Intralox Supports Whole Poultry Plant Upgrade with Comprehensive Solution and Services