Top Five Causes of Conveyor-Related Foreign Material Risk
How to proactively address them in your plant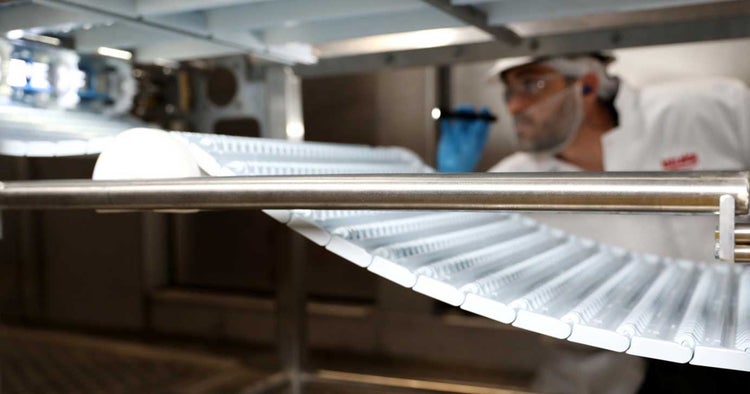 With over 500 conveyors assessed, Intralox experts have collected, evaluated, and analyzed the data to determine the leading causes of conveyor-related foreign material risk.
In the U.S. alone, roughly 80% of the food supply moves on conveyors, and the average direct cost of a recall is $10 million.
No matter where you are in the world, conveyors and the belts running on them must be properly designed, maintained, and cleaned to ensure food safety. Among the many challenges that processors face every day to achieve this—including demands for increased throughput, product variety, and strict regulations—one stands out:
Producers face enormous risk and operational costs due to product holds and recalls caused by conveyor-related foreign material contamination.
The good news? It's preventable. 
Our team has spent thousands of hours inside food processing plants. We've seen firsthand the issues and routine practices that put customers at risk every day. Understanding the root causes of conveyor-related foreign material can help you address potential trouble areas to minimize your risk.
Here are five common causes of conveyor-related foreign material contamination that you can work to avoid:
Belt Handling
This is a big one for both new, greenfield plants and when modifying existing legacy equipment. When plant personnel mishandle conveyor belts during removal or reinstallation for cleaning, belt damage can occur and invite foreign material contamination. How can you spot improper belt handling in your facility? Here are a few things to look for: 
Are your staff and sanitation crew using the correct tools and steps to remove the belts? For example, forcing out rods or pins with a hammer can damage the edge modules.
Are the belts being transported and stored properly during sanitation? Dragging a belt on the floor or draping it over another conveyor can damage both that belt and the other conveyor.
Does your team protect your belts and conveyors when building or modifying a system nearby? This is especially important when welding.
How are you storing new belts and conveyors? It's crucial that they be placed in a "clean zone" to protect them during construction.
If you notice such activity in your plant, teach your team the proper way to safely remove, transport, store, and reinstall your conveyor belts. 
Download, print, and display "The Top Five Causes of Conveyor-Related Foreign Material Risk" so that everyone in your plant understands them.
Conveyor Design
The design of the conveyor itself can impact the potential risk of foreign material. To optimize your conveyor and prevent unnecessary wear on the belt, consider the following during the design phase:
Proper catenary sag, or "belt slack" in returnway
Correct returnway support size
Wearstrip material selection for carryway (we recommend UHMW-PE, rather than HDPE, to avoid dusting)
Wearstrip surface finish—the smoother, the better
And don't forget about sanitation and conveyor design. What are your specific needs? For example, belt lifters and clean-in-place systems could be used on hard-to-reach conveyors like tall inclines. If your Sanitation Standard Operating Procedures require belt removal to deep clean hinges, consider a solution like ThermoDrive technology, which enables efficient and effective cleaning with fewer chemicals and without the need to remove and soak your belts.
Sanitation practices should meet your goals of low swab counts without increasing your risk for future belt breakage.

David Maldonado, Applications Engineering Manager at Intralox
Catchpoints
You may already know that catchpoints can lead to foreign material. But did you know that wearstrips—when misused or misaligned—frequently cause catchpoints? Often removed during sanitation, wearstrips can be reinstalled incorrectly. Specifically, if a wearstrip is placed on the frame backward with its round leading edges facing the wrong direction, an unintentional catchpoint is created.
Intralox Team Tip: We recommend rounding both the leading and trailing edges of your wearstrips to eliminate this issue.
Sprockets
There are several issues to consider with sprockets. Some we've seen in the field include:
Improper placement
Incorrect locking or retention
Failure to allow for thermal expansion
Any of these can impact operational efficiency and result in belt damage. Working with an expert to determine the necessary number and placement of sprockets based on application and load can enhance your conveyor's performance.
Maintaining sprocket position is important and can easily be accomplished with the right components, such as sprocket spacers.


Thermal expansion can cause the belt to disengage from sprockets if all sprockets are locked. 


Combining sprocket spacers and lock collars helps maintain correct sprocket placement during sanitation and allows for movement due to thermal expansion.
Chemical Compatibility
This issue can be harder to spot, but if it's left undetected it can exacerbate many of the previously covered risk points. If the chemicals you're using to clean aren't compatible with the conveyor's belt material, they can weaken the belt over time, making it prone to breakage. How can you know if you have this issue? We suggest working with your chemical and belt suppliers to proactively conduct a chemical compatibility review. Your supplier can also advise you on the correct amount of chemicals to use during cleaning since more is not always better.
Sanitation practices should meet your goals of low swab counts without increasing your risk for future belt breakage.
No one can do it all alone. But with a proactive mindset, effective strategies in place, and strong partnerships with your OEMs and suppliers, you can ensure food safety in your plant. Working to prevent these leading causes of conveyor-related foreign material contamination can help protect your products, your customers, and your company's reputation.
Address the Root Causes of Food Conveyor Challenges

David Maldonado is an Application Engineering Manager at Intralox. He leads a team that executes FoodSafe Conveyor Assessments and Workshops for Intralox customers.