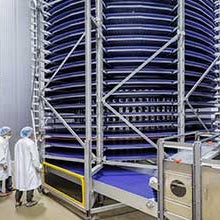 Your Operations Simplified
The DirectDrive™ System provides consistent and reliable performance, even in your most challenging applications. Unlike metal and friction-driven spirals, DirectDrive spirals require no adjusting or "babysitting"—they simply work the way they're supposed to.
Spiral technology like this eliminates hassles.
Traditional friction-driven spirals rely on overdrive, which can cause significant belt tension and unwanted vibrations. At their best, these spirals are unreliable; at their worst, they can crash, flip up, or stop working entirely. Plants often use lubrication to prevent these issues, but this time- and labor-intensive process comes with its own set of performance and hygienic challenges.
The DirectDrive System eliminates overdrive, significantly reduces tension, and eliminates the need for lubrication. As the reliability and predictability of your spiral increases, the amount of time your maintenance crew spends tending to it goes down. And when repairs are necessary, the belt's modular construction ensures they can be done quickly and easily.

Benefits:
Extends belt life
Decreases mean time to repair
Reduces lubrication
Reduces downtime
Minimizes catastrophic events