Elevate the Performance of Your Spiral Applications
No matter what type of conditioning your product requires, our spirals offer a reliable, space-saving, and efficient solution. Discover how Intralox can elevate the performance of your spiral conveyor applications.
Freezing
Intralox modular plastic belting (MPB) is hydrophobic, preventing moisture from adhering to the belt in freezing applications and facilitating product release. MPB eliminates the problems of metal conveyor belts, such as wear debris and product adhesion. In freezing applications, Intralox's DirectDrive System ensures consistent product orientation, eliminates overdrive, and removes issues related to loss of friction between the belt and drum (from frost or ice buildup).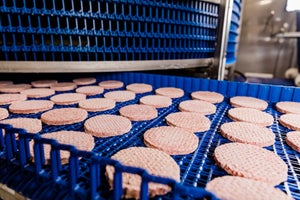 Cooling
In cooling applications, spirals equipped with Intralox MPB deliver increased throughput. Compared to metal belting, Intralox MPB reduces unscheduled downtime due to belt fatigue, delivers increased belt life, and eliminates product contamination issues from wear debris (such as black speck). Intralox spiral belts are also easier and faster to clean effectively.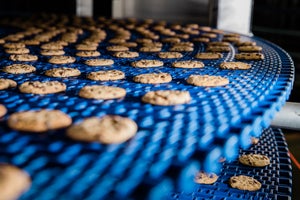 Proofing
Whether your product is raw dough or panned, Intralox spiral belts deliver superior performance in proofing applications. Our lightweight MPB minimizes product loss and improves quality by reducing product marking. The revolutionary, low-tension operation of the Intralox DirectDrive System eliminates overdrive, as well as pan movement, misalignment, and jamming.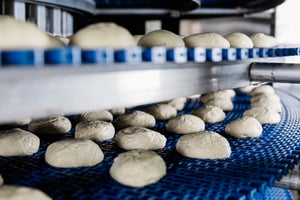 Hydrochilling
Constructed of non-corrosive, non-hydroscopic thermoplastic materials, Intralox spiral belts eliminate the problem of pouch leakage due to damage from metal belt edges or shards. The high load-carrying capacity of our belts enables them to effectively convey heavy pouches during hydrochilling. Intralox's DirectDrive System ensures correct product alignment and maximizes cooling efficiency and line speed by allowing pouches to be placed directly on the belt with no need for trays or cardboard.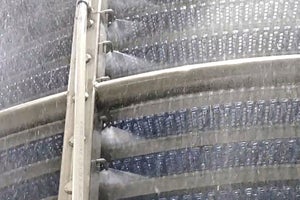 Buffering and Accumulation
For buffering or accumulation applications, Intralox spiral belts deliver low back pressure accumulation, bi-directional belt and sprocket design, and high-speed capability of 400 ft per minute (122 m per minute). Our DirectDrive System allows the belt to operate with low tension, preventing premature wear and greatly reducing belt replacement costs.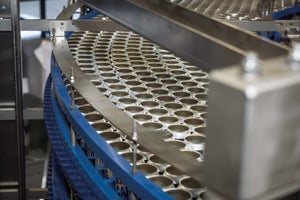 Elevating and De-elevating
DirectDrive System spiral technology is a flexible, low-energy solution to increase efficiency in can-making plants that functions both single- and bi-directionally. The positive drive of our elevating and de-elevating single-directional spiral conveyor eliminates misalignment, can be used in wet can areas, and can reduce up to 90% of energy consumption. The bi-directional spiral minimizes downtime caused by product changes, absorbs unplanned downtime, features less machine idling, and protects accumulated cans better with no back pressure.