New Products: Food Safety and Automation Solutions, High-performing Materials, and More

Intralox has developed and directly delivered reliable conveyance solutions that solve our customers' biggest food safety and automation challenges for 50 years. Our focus on continuously improving our technologies and services has resulted in 1,628 global patents and 81 patents so far in 2021 alone.
Patents in force around the world
On-Demand Webinar: New Food Safety and Automation Product Releases
In this 30-minute webinar—part of our Reliably Inventive Series—Intralox inventors and experts will take you through our newest product releases. Learn how you can meet your biggest food safety and automation challenges with our latest belt and equipment solutions, high-performing materials, and more.
We're excited to share with you 12 of our newest solutions—each made with predictability and uptime in mind.
Belting, Tools, and Components

ThermoDrive S8140
ThermoDrive Series 8140 belting is a drop-in replacement on many existing single-lug belting applications. It features a matte finish for better product release, reduced sink marks for improved scraping, and more hygienic drive lugs than similar products. It is available with flights, Synchronized Sidewalls, and V-guides.

ThermoDrive A23 Material
Significantly extend belt life along snack incline-to-packaging conveyors with Intralox's new ThermoDrive belts in polyurethane A23 material. A23 material is designed to overcome the challenges of warm, damp conditions in food processing, making it ideal for incline applications in the snack industry—especially highly seasoned products like hot, spicy, or acidic snacks or chips.

S560 Flush Grid, Flat Top
Eliminate downtime and increase belt life with Intralox's new high-strength tight transfer belt. The Intralox S560 belt's distinctively small nosebar and pitch make it ideal for transferring small or delicate products to improve yield and minimize damaged or wasted product. Its thoughtful design helps simplify cleaning, eliminate mistracking, and maintain product orientation.
How Our Customers See Success with New Intralox Products
Since installing the Intralox Series 560 belt, we have not had any performance issues. I've been especially pleased that the belt has not stretched any further past the mark on the take up.

Chris Ryan
Bread/Bun Maintenance Supervisor, Kwik Trip Inc.
Once we switched to the ThermoDrive belt, cleaning was made much simpler because there were no cracks and crevices. That engineering solution solved our problem.

Cory Kennedy
Calbee Corporate Engineer

FoodSafe Sprocket Spacers (Shaft Optimization)
Intralox FoodSafe™ Sprocket Spacers optimize shaft/sprocket configuration to prevent sprocket migration and uneven spacing that can result in belt or sprocket damage. Minimize foreign material contamination risk while improving hygienic and operational performance on your conveyors.

FoodSafe Belt Puller
Experience simpler, faster, and safer belt removal and installation with the Intralox FoodSafe Belt Puller. Gain quick access to the conveyor frame for maintenance and repairs without removing the belt. 

FoodSafe X-ray–detectable PK Material
A lightweight alternative to acetal that's more impact, chemical, and abrasion resistant, Intralox PK material helps reduce nonmechanical belt-related foreign material in your facilities. Available in S800, it improves release and yield in certain applications. FDA and EU compliant for direct food contact, it functions over a temperature range of -40°F to 200°F (-40°C to 93.33°C). X-ray–detectable PK material takes foreign material risk reduction one step further with detectability.
FoodSafe Heavy-Duty Edge - S800 and S900
The Intralox FoodSafe Heavy-Duty Edge belt features a robust design that reduces breakage risk, especially during daily sanitation and maintenance. Its closed flush belt edge minimizes catchpoints, and its thicker links reduce wear while maximizing belt life. Available with molded indent flights.
Learn how S800 HDE PK belting reduces wear, breakage, and inspection time (PDF)

S900 HHR Nylon MTW Flat Top with Four Holes and Tabs
S900 High Heat Resistant (HHR) Nylon Mold to Width Flat Top belting with four holes and tabs is designed as a more robust alternative for high-speed, single-filer container applications, including the pin-stripper. The S900 HHR Nylon belt has twice the life expectancy as acetal.

S2100 ZERO TANGENT Radius Belt in Blue Acetal
Optimize your layout and save valuable footprint with the high-performing, reliable S2100 ZERO TANGENT Radius belt, now in blue acetal for improved visual foreign material contamination detection. FDA-approved sprockets bring more flexibility and applicability to food applications.
Equipment

DARB Switch S4500
The Dual-Stacked Angled Roller Belt (DARB) Switch S4500 is designed to handle medium-to-high rates of corrugated cases, shrink packs, and totes within a small footprint. It diverts products in one direction at a 90-degree trajectory relative to the direction of the product flow, perfect for inline applications, applications with a side infeed, and applications that require products to be diverted left or right. With the DARB Switch S4500, you get the accessibility, reduced footprint, and low total cost of ownership that slat switches don't provide.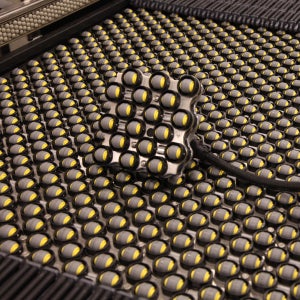 ARB Multilane Divider S7050
The Intralox Activated Roller Belt (ARB) Multilane Divider S7050 is an ultra-compact, simple solution that can switch up to four lanes in and four lanes out with high accuracy and eliminates the need for overhead rails, with practically zero changeover time between product runs. Handling various package sizes and types at up to 600 packages per minute—including small packages and sustainable packaging—the ARB Multilane Divider S7050 reduces total cost of ownership while meeting the rapidly changing needs of the global market. 
Resources

CalcLab
CalcLab, Intralox's new web-based engineering platform, provides you with a single location for the latest calculators available. CalcLab offers a unified space for Intralox to deliver and you to perform engineering analyses with confidence, while leveraging Intralox engineering expertise. CalcLab runs in the browser, so you can access it from any internet-connected device without installing any additional software.
Providing Real Results Through Our Products and Values
The customer intimacy that flows from our direct business and service models, combined with our Continuous Improvement Philosophy, drives us to listen to our customers' needs and develop application-specific solutions by industry-specific experts.
We provide the strongest, written, money-back guarantees for our products on:
Belt performance
Expedited shipping (most markets)
On-time shipping
Application-specific guaranteed performance for belt life/wear, sanitation, and productivity
Looking to see your own success? Our team of experts is standing by.
---