ThermoDrive Technology: Joining Options
In order to preserve the hygienic qualities of ThermoDrive belting and ensure its correct operation, belt ends must be properly joined.
Intralox offers a variety of joining options, from our innovative new plastic hinge lace to more standard joining methods. Click on the tabs below for an overview of each option, and call Customer Service to discuss which is best for your application.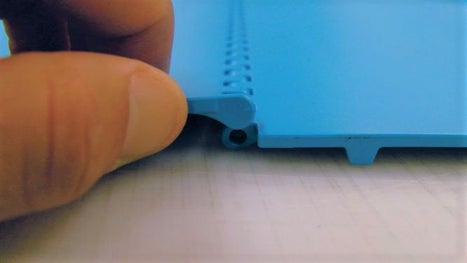 The ThermoLace Joining Method
A defining feature of modular plastic belting is its reliable hinge pin system that enables fast and easy belt installation and removal. Recently, Intralox design engineers applied this time-tested feature to ThermoDrive belting. The result is the ThermoLace joining method, an innovative plastic hinge lace which can be used to quickly join belt ends.
The ThermoLace joining method employs a strong, large diameter rod with exceptional retention that can be easily inserted and removed. Featuring a great degree of open area, the ThermoLace can be effectively sanitized with minimal effort. In fact, scientific laboratory testing shows it can be easily cleaned to a microbiological level using standard cleaning practices.*
This option is particularly advantageous for customers who need to join belt ends more quickly than traditional splicing allows.
Simple installation, removal, or replacement of ThermoDrive belting.
Easy cleaning and service on difficult-to-access conveyors, including metal detectors and swan neck inclines.
* A copy of these lab results is available upon request.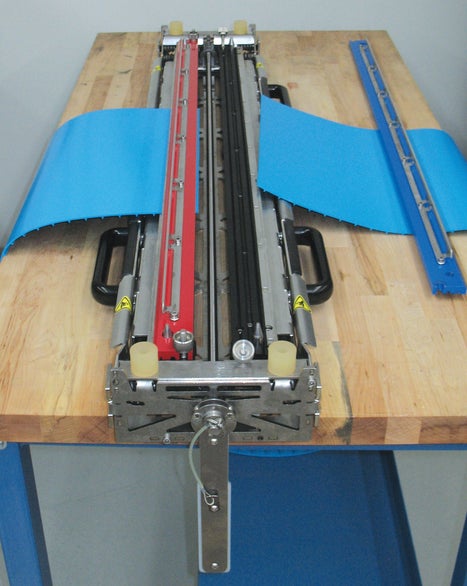 ThermoDrive Splicing System
The ThermoDrive Splicing System is used to quickly produce permanent, hygienic splices in ThermoDrive belting.
Produces an accurate and square spliced joint that will not cause mistracking.
Maintenance personnel can quickly fix problems during production with minimal interruption, or fix small problems in between production runs.
Splicing can be performed either on the carryway or returnway, providing flexibility for different conveyor configurations.
Plant personnel can become proficient after less than an hour of training.
From set up to tear down, the splicing process can be completed in twenty minutes; actual splicing time is as little as five minutes.
More forgiving than traditional vulcanizing equipment with less time and expenditure to fix mistakes. No complex finger joints or vulcanizing presses requiring compressed air and cooling water.
Extends belt life as belts can be repaired rather than replaced.
Using the ThermoLace joining method in combination with the Splicing System enables plants to sanitize and/or repair ThermoDrive belts off the process floor by simply removing the hinge pin. Re-installation of the belt is quick and easy: just re-install the hinge pin.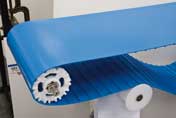 Fabricated Endless Belts
Many new conveyors are designed to accept endless ThermoDrive belts from Intralox, eliminating the need for splicing at your plant and enabling easy installation and removal. A spare endless belt can be kept in inventory for quick and easy replacement when needed.
Metal Lacing
For plants standardized on metal lacing or for non-USDA applications in which hygiene is not the primary concern, Intralox can provide fabricated ThermoDrive belts employing Ready Set #62 metal lacing.
Emergency Metal Lacing Kit
Having an emergency metal lacing kit* on-site is a cost-effective security measure for emergency situations in which there is no other repair option. The kit can be easily installed by maintenance personnel without the need for special tools. It includes a template to ensure that the cut is made at the right location so that the correct pitch of the belt's drive bars is maintained. Please contact Customer Service for more detail.
*Alligator #1 is used for ThermoDrive 8026 and Alligator #7 is used for ThermoDrive 8050.