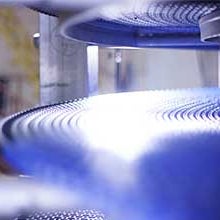 Your Cleaning Simplified
The DirectDrive™ System's unique design offers clear advantages for sanitation and food safety. It helps safeguard the hygienic integrity of your product and allows you to adopt cleaning procedures that are straightforward, predictable, and effective.
Spiral technology like this makes things easier.
With traditional friction-driven spirals, sanitation is a major challenge. The difficulty of cleaning a spiral belt and structure, combined with the need to lubricate it, can easily lead to problems like foreign material contamination. Metal spirals can compound these issues by producing rust or "black speck" (discolored metal wear debris)—major threats to the quality and safety of your product.
The DirectDrive System helps you prevent these issues. It eliminates the need for lubricants, and is less susceptible to operational issues (e.g., slipping or surging) from greasy or oily product. With an increased open area on the belt's surface, it's inherently more cleanable; this, combined with its plastic material construction, helps protect against contaminants. Intralox's experts in sanitation and food safety (including our consultants from Commercial Food Sanitation, an Intralox company) can further support your efforts in this area. 
Benefits:
Improves cleaning and sanitation results
Facilitates predictable cleaning schedules
Eliminates black speck
Minimizes risk of foreign material contamination
Reduces sanitation costs