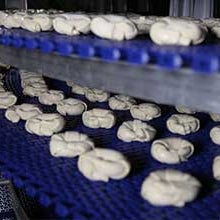 Your Business Simplified
The DirectDrive™ System helps you improve two key metrics: the efficiency of your operations, and the amount of product you can sell. With gentle product handling and consistent output, you gain higher profits for your business and simpler processes in your plant.
Spiral technology like this isn't a luxury—it's a necessity.
Plants that use tension-driven spirals often contend with issues related to product orientation—including skewing, distortion, and misalignment—that can damage your product and decrease your revenue. And because they can support only so much load, traditional spirals are often a chokepoint for throughput and production capacity.
The DirectDrive System uses a patented, dual-diameter operating system that engages the belt edge directly with the drum to eliminate slip, significantly reduce tension, and simplify operation. DirectDrive spirals provide smooth, dependable product handling that eliminates the risk of distorted, damaged, or lost product. They also help you increase your plant's throughput by supporting heavier product loads on the spiral and enabling automated processes and higher throughputs elsewhere in the plant.

Benefits:
Increases throughput and product load capacity
Protects product quality
Optimizes product yield while reducing scrap
Increases uptime
Enables downstream automation
Case Studies
DirectDrive System Improves Quality and Eliminates Downtime for Leading Poultry Processor