Intralox HDE PK Belting Eliminates Product Sticking for Greater Yield Retention and Safety
---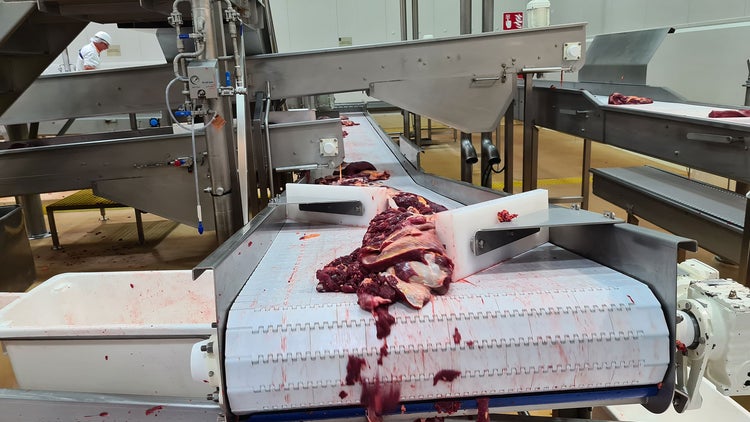 When I need to replace other belts in my plant, I will definitely go for Intralox's HDE PK. Product is no longer sticking to the belt, it's nearly eliminated dropped meat, it's easier to clean, and it has certainly improved our product flow.

Alan Carr
Silver Fern Farms–Te Aroha Engineering Manager
Customer Objectives
Silver Fern Farms—New Zealand's largest grass-fed lamb, beef, and venison producer—was actively seeking yield retention and sanitation efficiency improvements at its Te Aroha plant. Hot boned beef trim is sticky by nature, and it was clinging to acetal belts at transfers. This was causing significant carry back, with 61.7 lb (28 kg) of Silver Fern Farms' premium, high-value flank steak discarded every week. On top of lost product, Silver Fern Farms was incurring additional labor costs to cover production line workers collecting the dropped meat from narrow running lines and sanitation workers effectively cleaning belts to Silver Fern Farms' high standards.
Intralox Execution
Before reaching out to Intralox, Silver Fern Farms discussed and even implemented some mechanical solutions such as flat surface scrapers, but they wanted a step change improvement. Intralox worked with Silver Fern Farms to replace the acetal belting on its trim line to Series 800 Open Hinge Flat Top belting with Heavy Duty Edge in white PK. PK, or Polyketone, is a more impact- and chemical-resistant material with superior product release. Intralox's combination of the Heavy-Duty Edge (HDE) and PK is not only easier to clean and decreases product loss, but also eliminates edge breakage, minimizes foreign material contamination risk, and reduces downtime. Implementation at Silver Fern Farms was easy, with the entire belt installation occurring during a previously planned maintenance shutdown.
Results
Switching to Intralox's S800 OHFT belting with HDE in PK resulted in almost immediate yield improvement (less product carry back and dropping) and easier belt cleaning, with the added benefit of a drastic reduction in food safety risk. Silver Fern Farms went from losing 61.7 lb (28 kg) of flank steak per week to losing none, and the new belt will save the plant 25 hours of cleaning per belt per year.