Our team is here for you.
Innovative New Products
ThermoDrive Incline to Packaging
Elevate Your Product, Protect Your Brand
Food safety, sanitation, reliability: ThermoDrive incline solutions help you protect the integrity of your product and your brand.
Digital Solutions
CalcLab
Calculate with Intralox engineers, simply and directly
CalcLab™, Intralox's new web-based engineering platform, provides you with a single location for the latest calculators available.
Intralox News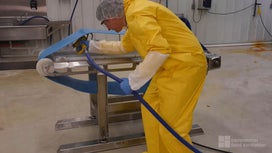 Focusing on food safety and sanitation, the courses include "Introduction to Effective Sanitation," "Hygienic Design is a Choice," and "Top 5 Causes of Conveyor-related Foreign Material Risk."