Transform Your Trough Conveyor
Stress-free conveyance for bulk food products like doughs, powders, liquids, and more

Trough conveyor belts

Contain bulk products—hygienically, and with no fixed sidewalls—on any trough conveyor.
Intralox ThermoDrive trough belts combine the most food-safe method of conveying and containing bulk products with reliable, predictable belt operation. Whether for new equipment, legacy equipment, horizontal conveyors, or inclines, these trough belt solutions eliminate product loss while simplifying your sanitation processes. Retrofits can be performed in less than a day using our ThermoDrive Trough Retrofit Set, with remote support as needed.
---
All of our problems have been solved...the ThermoDrive belt has allowed us to improve our product quality while reducing our operating costs.

Patrick Alberny
Cémoi-Perpignan Plant Engineer
Benefits
ThermoDrive trough belts offer several key benefits, including:
Containment without fixed sidewalls
Elimination of product loss
Less effort needed for sanitation
Elimination of harborage hot spots (e.g., unsealed rollers)
---
Advantages
Where can ThermoDrive trough belts deliver value for you?

Product Containment
ThermoDrive trough solutions help prevent product loss by ensuring that bulk products like liquids, powders, and unstable products are consistently, reliably contained. Available in natural, U, or V configurations, these belts deliver total product containment with no need for fixed sidewalls, which means fewer accessories and simpler cleaning on your belt.
See how Cémoi transformed its chocolate powder conveyor with a ThermoDrive trough belt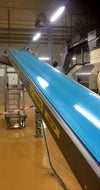 Inclines
Elevating bulk product while minimizing product loss or carry-over is a major challenge. ThermoDrive trough belts help you optimize incline conveyance with belt-surface profiles that provide better control on your products, eliminating the need for flights in many applications. Incline trough belts can be designed either with or without flights and are compatible with scrapers and other accessories.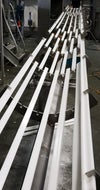 Retrofits
Retrofits are often complex, expensive, and time consuming. The ThermoDrive Trough Retrofit Set provides a fast, simple, cost-effective method for converting your existing troughed conveyors to ThermoDrive technology. Retrofits can be performed in less than day, with remote support as needed.