Solutions to Take You Higher
Uncompromised hygienic performance for inclines, z-inclines, bucket elevators, and more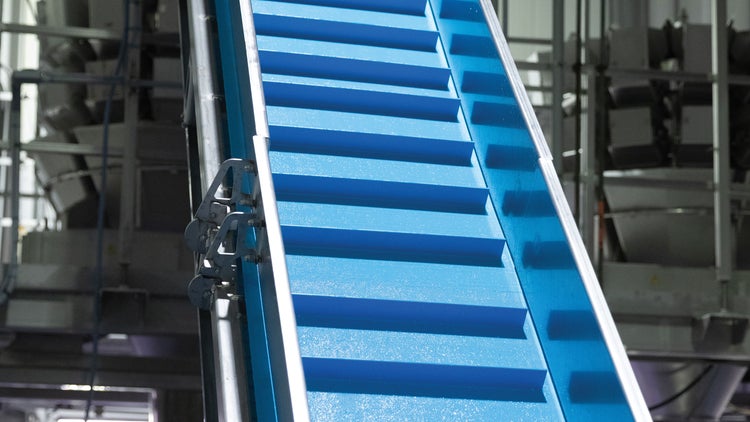 Incline conveyor belts

Reduce cleaning and drying time on your inclines by 50%.
Intralox ThermoDrive incline belts offer simple, reliable, and hygienic solutions for your critical incline applications. They offer the same sprocket-driven performance as our ThermoDrive straight belts, with a hingeless solid surface that requires 50% less time to clean and dry. Light enough to lift and clean in place to better access your conveyor, ThermoDrive incline belts can eliminate the need for belt removal during sanitation.
---
reduced changeover time per incline conveyor
Benefits
ThermoDrive incline solutions deliver several key benefits, including:
Up to 50% less belt and conveyor cleaning time
Longer belt life, especially in abrasive applications
Elimination of fabric reinforcements and yarn that can be exposed, harbor bacteria, and pose a foreign material risk
Improved yield for bulk conveyance
---
Applications
Where can a ThermoDrive incline belt deliver value for you?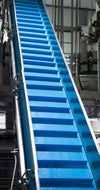 Incline to Packaging
Food processors have reduced cleaning and changeover time in incline-to-packaging applications by up to 50%. Hinge-free, fully closed belt surfaces help prevent bacterial harborage. And, depending on the application, ThermoDrive belts offer easy drop-in replacement on many existing conveyor systems.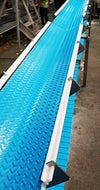 Dewatering
For incline applications where dewatering is required, ThermoDrive Perforated Flat Top belts provide for efficient dewatering while maintaining the highest standards in hygienic performance and operational efficiency. Even with a perforated surface, the belt's homogeneous thermoplastic material remains impervious to bacterial and moisture harborage. The Perforated Flat Top belt's perforation pattern is optimized for use with accessories.

Product Containment
Helping to ensure the best possible hygienic product containment on your inclines, ThermoDrive Synchronized Sidewalls represent a new class of quality for sidewall splices. State-of-the-art Synchronized Sidewalls provide for enhanced food safety, easier cleaning, and improved control and containment of small or fragile food products conveyed on ThermoDrive belting.
Download our ThermoDrive Synchronized Sidewalls Product Highlight (PDF)