Fast, Compact, and Reliable Singulation
Separate and singulate at unsurpassed rates within a small footprint with the Intralox Smart Singulator.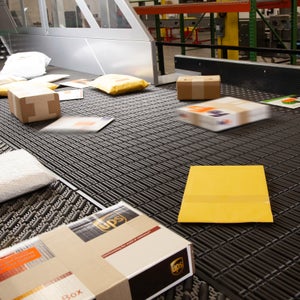 The Intralox® Smart Singulator™ takes a bulk flow of small parcels and de-stacks, identifies, and singulates that flow into a single-file flow of items. It does this via a sensor array, and proven ARB technology, at the highest rates in the industry. 
Powered by Intralox Smart Control technology, the Smart Singulator reduces downtime and maintenance while improving efficiency.

Throughput
Get the fastest, most reliable throughput at rates up to 14,000 pph
Improve efficiency and reduce downtime by automatically separating any item during singulation, including oversize parcels and stacks, that may cause an error or machine damage in downstream equipment
---


Functionality
Reduce downtime and maintenance with future ready, proven technology that can change as your ecommerce market changes
Over 10,000 proven ARB installations globally
---


Labor
Reduce dependency on operator skill 
Train to operate in minutes
---


Footprint
Reduce total footprint
Provide downstream sorters with additional room for the maximum number of sortable destinations

Equipment Insights

Smart Singulator

What sets this game-changing technology apart? Intralox R&D Manager Matt Fourney explains.
Our equipment specialists can help you optimize layouts, simplify processes, and address unique production challenges.