Rethinking Labor Shortages on Your Packaging Lines
How to minimize production loss and empower your team with a limited workforce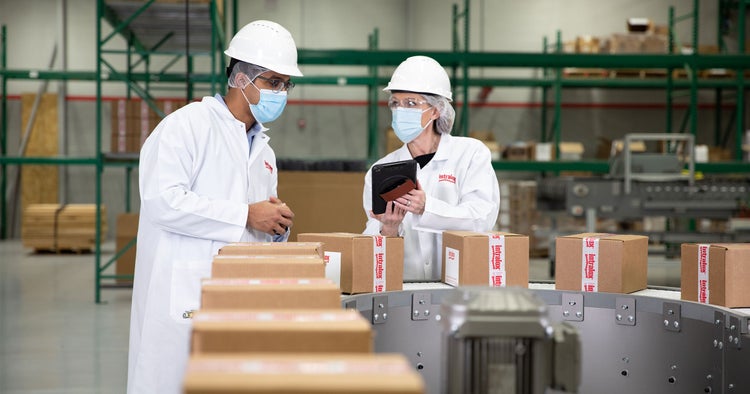 Labor shortage: the manufacturing world can't escape it. And the challenges of parts in low supply, long lead times for critical machinery, and production loss are all exacerbated by the lack of labor.
Despite the prevalence of these challenges, demand from manufacturers has only increased. They struggle to onboard, train, and retain labor while finding their business-critical operations under pressure to satisfy a frustrated workforce.
We spoke with our experts to glean unique insights on how to face and overcome these challenges in the short term, while constantly preparing for the future.
Small Changes Make a Big Impact
Putting thought into the reorganization of your line layout in the short term can make visible differences in your production, particularly if your plant is large.
"If you are palletizing at the end of your production line, plan on doing it in a centralized area," says Frank Solitario, Intralox Activated Roller Belt (ARB) Solutions Seller. "This way you can do all your palletizing in a focused area, and more than manage with less people. If you have one person working two lines because they are more centralized and closer together, and you're able to sort out to the SKU that you're running, not only do you need less people, you're likely going to be more efficient as well."
A small change like centralizing your palletizing area can help save on labor, forklifts, and forklift operators, and reduce forklift traffic. This increases employee safety and can help address many challenges in your plant. Centralization combined with other small changes can fall in line with the long-term plan of your plant. This way, you gain efficiencies, and easily and cost effectively move toward automated central palletization without going through the automated palletizing itself.
Think About Labor Differently
"Putting a concerted effort into automation sets you up for a situation where your people who are happy to work can be moved to positions that are less strenuous, and maybe even more interesting to them," says Karl Easey, Intralox ARB Solutions Seller.
The goal is not to eliminate labor. The goal should be to eliminate the reliance on labor in particular areas. This way their skills and knowledge can be used somewhere that impacts production in a more positive way.

Karl Easey
Intralox ARB Solutions Seller
"When we worked with Costa Group on their automation project, it wasn't about eliminating labor. It was about taking eight or ten labor units away from the palletizing area and moving them upstream to the grading machine and carton handling area. This actually increased throughput without needing more people because they were using those people in a more value-adding way."
Process Optimization and Justification
Estimated future volume should help you understand the best way to think about moving forward with automation or process optimization. If volume is perceived to be low or you have slow-moving lines, it might not be best to invest in automation. Instead, choose a simple band-aid solution in the short term.
What's a good short-term, quick-fix solution? "Depending on your industry, robotic carton packing," according to Solitario. "A small robotic system can sit over your conveyor and use its vision system to pick and pack. If you compare that to the number of operators they have cartoning versus the cost of that robotic system, that's immediate savings to me. That can be up to 12 operators reassigned to new areas."
Intralox Team Tip: For some simple process changes, look to automate the processes that don't changeover often. Some examples of this are case packaging, label application, product inspection, and product reject handling.
Plan for the long term with the right partner
These times call for innovation and being future ready. If you need quick-fix, short-term solutions to deal with labor shortages, have an interim plan and a long-term plan in place. When you're ready to move on from your quick-fixes, have the right partner in your corner to help you achieve your automation goals. Calling partners like Intralox early on will help you make sure you need fewer quick-fixes in the future.
---