January 13, 2020 - Intralox Takes Aim at Foreign Material Risk
Preview newly released FoodSafe products at IPPE 2020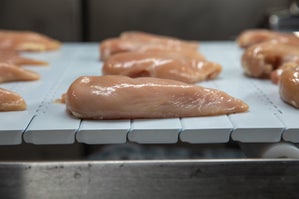 As global food manufacturing continues to automate, the role of belting is more important than ever for food manufacturers to safely produce food. With that in mind, Intralox is releasing new FoodSafe™ products specifically developed to prevent belt-related foreign material risk.
The new products include the Intralox® Series 800 Flat Top Heavy-Duty Edge in PK (Polyketone), a more impact, chemical, and abrasion resistant material than acetal. Intralox PK will reduce nonmechanical belt-related foreign material risk in facilities, and functions over a temperature range from -40°F to 200°F. The belt is both FDA and EU compliant.
The Heavy-Duty Edge features a robust design which reduces breakage risk during daily sanitation and maintenance, and a closed flush belt edge that minimizes catch points. When used with the new Sprocket Spacer, food manufacturers can ensure their sprockets maintain position during sanitation to preserve belt alignment at startup.
The new products are part of Intralox's FoodSafe portfolio, which addresses the needs of food manufacturers to produce safe food efficiently and effectively. FoodSafe brings together Intralox's proven products and services to help manufacturers achieve their food safety and operational goals.
"Our experts have spent thousands of hours on the floors of food manufacturing facilities around the world and we've conducted extensive research to understand the root causes of belt-related foreign material," said Intralox FoodSafe Manager Killian Lapeyre. "We believe the vast majority of these problems are preventable with the right conveyor design, preventive maintenance, and sanitation programs. Intralox offers solutions for each of these critical factors."
Visit Intralox at IPPE in Atlanta in Hall B, Stand 5735 from January 28–30.